Turkey-Syria military risk higher
Comments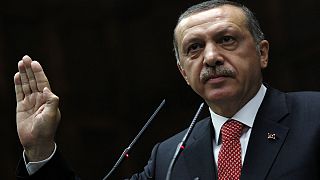 'Stay clear', Turkey is warning Syria along their 900km common border, as international diplomatic and military channels crackle with high tension.
After the Syrians shot down a Turkish warplane over the Mediterranean Sea last Friday, Ankara described it as an act of aggression.
This has added volatility to Syria's civil war, enriching the fuel mix behind United Nations and Western efforts to end the conflict, fearful of the regional spread potential.
NATO member Turkey has said that one of its unarmed reconnaissance aircraft was deliberately targeted while flying in international air space.
Ankara said it had briefly strayed over Syria.
Prime Minister Recep Tayyip Erdogan told parliament that any Syrian military unit approaching Turkey's border would be treated as a threat.
Syria's version of the incident is one of self-defence, insisting that its forces acted legally, Damascus television showing a flight path of the Turkish F4 Phantom jet over Syria.
NATO allies at an emergency meeting in Brussels condemned Syria's act but stopped short of threatening any military response.
Secretary-General Anders Fogh Rasmussen cautioned Damascus: "What we have seen is a completely unacceptable act and I would expect Syria to take all necessary steps to avoid such events in the future."
Turkey invoked Article 4 of NATO's charter which provides for consultations when a member state feels its territorial integrity, political independence or security is under threat.
Article 5, which calls for NATO members to treat an attack on one country as an attack on all, allowing for collective defence action, has not been officially raised in the discussions so far.
Erdogan warned Syrian President Bashar al Assad against interpreting Turkey's restraint as weakness.
Some 30,000 Syrian refugees are sheltering in Turkey.
Gizem Adal, euronews: "Now to discuss the implications of the downing of the Turkish jet by Syria we are joined in our Istanbul studios Osman Cicekli. He is a retired lieutenant colonel who survived when his F-16 jet was shot down by Greece in 1996.
'The prime minister has said military engagements have changed. What does this mean from a military point of view,what has changed? Do you think Turkey is closer to war?"
Osman Cicekli: "Since it is a decision which was taken by a political authority, ie the prime minister, I think we are nearer to war, of course I don't want that to happen but it is the case. The engagements during peace time and war are very different. Especially after such a declaration made by Turkey.
'In normal circumstances, which means in peace time, you warn an aircraft which belongs to an enemy country that is coming close to your airspace and you do that in peaceful ways.
'Of course it depends if the plane is armed or not. If the plane is armed, then your reaction can be different. But that does not mean you can shoot that plane. If a plane is moving towards a strategic target and if it is armed, in that case with the necessary permission from certain authorities, you can shoot the plane as a last resort.
'But in the actual context of Turkish – Syrian relations, there is no such necessity to shoot down the jet.
'If we look at the current situation, Prime Minister Erdogan has declared clearly that any air target in our borders will be considered as enemy and will be treated in that way. After all these declarations, if the necessary response is not taken, Turkey will be seen as a weak country which doesn't have any credibility and that is something that we do not desire."
euronews: "At Turkey's request NATO members held a consultation meeting yesterday under article 4. Why was article 5 not discussed? Do you think article 5 will be considered by NATO?"
Osman Cicekli: "I can tell you sincerely that the European members of NATO, do not consider the situation in Syria, the Syrian crisis in the way Turkey looks at it. As far as I can see, they do not take it seriously.
'In that sense, this event can generate a war. And that means today, NATO members like Germany, France, England and Belgium must get involved in such an affair. At the moment, with the current economic problems Europe is facing, the countries are not looking for the possibility of war in order not to complicate the situation even more. So that is why, they are not eager to discuss article 5. Therefore, Turkey has to push in order to employ article 5. I think NATO members are unwilling to bring article 5 into force.
'For sure, the 27 other members of NATO should reach a common decision to adopt article 5. At this point in time, I believe that the members are not taking this so seriously."
euronews: "What do we know about the power of the Syrian army, the air and land forces? At the moment its a question raised by many people."
Osman Cicekli: "I think the Turkish Air Force is more powerful than the Syrian Air Force in every way. There can be only one problem, in the case of a violation of their airspace, their air defence systems and especially their radars will be active, I assume. I think their ground-to-air missiles are powerful. So that means, they have the ability to respond to any possible air raid and eliminate any attack with their air defence systems."