Discipline in school - the pain of learning
Comments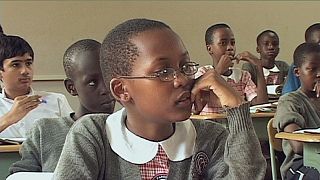 Uganda: corporal punishment
Maintaining control in the classroom is essential but some methods of keeping order are controversial.
While corporal punishment might be banned in Uganda, one study showed that 81 percent of Ugandan schoolchildren are still subject to this kind of violence.
UK: Violence, no way to teach
Peter Newell is an advocate for children's rights and is co-ordinating an initiative to end corporal punishment. He explained that there are still 100 countries where it remains lawful to hit a child, and told us why physical discipline is not an effective solution.
USA: A lesson in classroom security
Crime is no stranger to the outskirts of Philadelphia. So authorities have adopted strict security measures to keep violence, drugs and weapons out of the classroom. There are security guards and metal detectors to pass just to get into the building.
WORLDCORPORALPUNISHMENT
corpun
The Observer
corpun
ANPPCAN (Uganda Chapter)
anppcan
Child Hope UK
childhope
Raising Voices
raisingvoices
Caning Banned in Schools
New Vision paper
corpun