Afghan officials attacked at massacre scene
Comments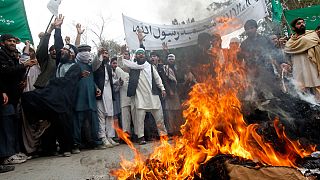 An Afghan government delegation has come under a gun attack as it visited the scene of the massacre of 16 civilians by a US soldiers near Kandahar. The group included two of President Hamid Karzai's brothers. No one was injured in the shooting by suspected insurgents, but the incident highlighted the depth of anger over the killings.
Protests across the country reflect a new level of hostility to foreign troops, and US forces in particular. They are due to leave Afghanistan by the end of 2014, but much of the population wants them to go now.
In a bid to quel the outrage President Barack Obama said: "We treat the death of Afghan civilians like this the same way we would treat a series of deaths in the United States. We will bring the full weight of the law to bear"
The Taliban appears set to capitalise on the wave of rage and has threatened to behead any US soldiers it captures. Against this background
Washington is struggling to rescue an agreement in principle with the Afghan government to allow special advisors to remain in the country after 2014.