Liberia: The trials and tribulations of travel in the West African state
Comments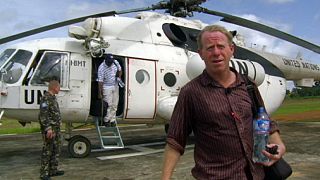 Liberia bears the scars of its two brutal civil wars; burnt out and bombed buildings litter the capital Monrovia and beyond.
The war, which started when Charles Taylor crossed into Liberia from neighbouring Ivory Coast on Christmas Eve 1989, shattered the state and traumatised its people. The recovery will take decades.
However, we were there to film the victims of another African civil war.
In February 2011 a disputed election in the Ivory Coast turned violent and pitted supporters of the then president, Laurent Gbagbo, against the opposition led by Alassane Outtara.
Inevitably the innocent got caught up in the violent chaos and hundreds of thousands became internally displaced, while tens of thousands fled to surrounding countries.
To reach those in Liberia we had to travel to Harper, a coastal town in the south east of the country. It proved to be a trip and a half.
We were booked to fly out of Monrovia on a UN Russian M1-8 helicopter, a lumbering and ancient beast of burden.
The plan was to touchdown in Greenville en route and after flying over Liberia's unspoiled coastline we landed for a 20 minute stop over.
We reboarded and the Russian crew fired up the engines only to wind them down and inform us that a problem with the rotors meant we were going nowhere.
We eventually took off 24 hours later after a night in a pretty basic guest house (that's me being polite) and enjoyed a hitch-free flight to Harper.
After days of hard filming we wrapped up and headed back to Harper Airport to travel to Monrovia the flight was overbooked and the decision was taken to drive the 650 or so kilometres back to the capital.
It seemed a reasonable solution, but the problem is there are no roads in Liberia. While dry the pot-holed dirt tracks are passable, but when the rains fall they quickly turn into a thick clay-like mud.
Any ill-equipped vehicle will soon fall prey to the Liberian mud and we passed many a victim.
In all it took a total of 22 hours of torture to get back to Monrovia.
We were pretty much battered as we arrived back in the capital.
A shower never sounded sweeter.
Chris Cummins