Are some countries more disaster-prone than others?
Comments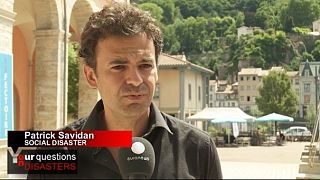 These are the questions you asked Patrick Savidan:
1- Do disasters affect poor countries more than rich countries?
2- Is it inevitable that natural disasters become social disasters?
Social Disaster
Hurricane Katrina showed how a disaster affects people in vastly different ways. Patrick Savidan is one of our experts on disasters. As the president of the French Observatory of Inequalities, his research interests focus on issues of democracy, social justice and diversity.
Patrick Savidan is a philosophy professor at the University of Poitiers. He is the editor-in-chief of the French magazine Raison Publique and he co-directs series of books on philosophy for French publisher Grasset. He has written books on inequality, multiculturalism, european integration and political models.