Euro faces a battle to survive: Van Rompuy
Comments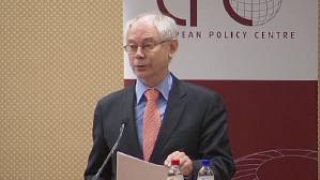 The euro single currency is facing a battle for survival, European Council President Herman Van Rompuy said on Tuesday as Ireland considers tapping the EU for a financial bailout.
Six months after Greece sought an emergency loan to save its economy, investors fear Dublin needs aid to manage its debts and prop up its weak banks.
Van Rompuy warned there could still more economic turmoil ahead.
"The first year of the Lisbon Treaty has been clearly marked by the crisis of the euro zone, it was not a period of vision it was a period of survival, it's not finished yet," he told the European Policy Centre in Brussels.
The loss of confidence across the euro zone has also raised the possibility that Portugal could ask for EU assistance.
The country is struggling with high sovereign debts and weak economic growth. Lisbon insists it does not need a bailout.
Ministers believe some calm has returned to the market, pointing out the interest rates on government bonds have fallen from a record high five days ago.