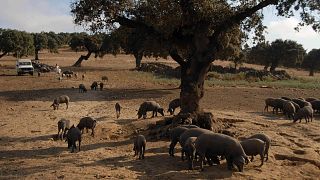 -
Copyright

AP Photo/Amanda Rivkin
Drought in the Spanish region of Extremadura is putting the production of Ibérico ham at risk.
The world-famous dry-cured ham is made from blackfoot pigs which eat acorns in oak and cork tree groves.
But high temperatures and a lack of water in the last year have caused acorn production to drop by 20 to 25 per cent. The pigs are taking longer to reach their ideal weight, delaying the production of the Ibérico ham.
How are Iberian pigs being impacted by climate change?
'La Monetanera' is the fattening period for Iberian pigs. They spend time in pastures where they graze and eat acorns, putting on a considerable amount of weight in two to three months. It happens from roughly October to March and after this, they are slaughtered.
"Obviously the production of grass and acorns has been much less this year" explains Rodrigo Cárdeno Sánchez, the owner of a farm in Badajoz, Extremadura.
"We are talking about an animal that should start October weighing 90 kilograms and end January at approximately 150 or 140 kilograms."
The Interprofessional Association of the Iberian Pig (ASICI) says that this 'montanera', between 15 and 20 per cent fewer acorn-fed pigs will be slaughtered compared to the 2021-22 season.
This equates to around 150,000 animals meaning that within four years Ibérico ham may be more scarce and expensive.
Producing Ibérico ham is becoming less profitable
Emilio Muñoz, manager of cured meat company Ilunion Ibéricos de Azuaga, says they are looking at 2,000 to 3,000 fewer pigs this season.
"We have cut 15-20 per cent of what we had planned. Expenditure has reached the same level as income and it's a disaster."
Some farmers have already increased the amount of land they are using or slashed the number of pigs they have to alleviate the problem.
But both of these options reduce their profitability - something that has already been affected by an increase in production costs.
Experts say it won't be easy for the industry to recover due to the long and expensive life cycle of the Iberian pig.