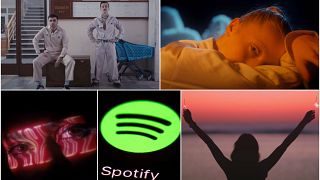 -
Copyright

AP Spotify logo, Youtube
It's the place where the West meets the East. 
A rich mix from both world's runs through Türkiye's food, language, fashion, literature, art, cinema, and just about everything else in life.
It's no surprise to find the same ingredients in Türkiye's music tastes. It's also the place I call home so indulge me, just a little, as I share some of the country's top listening choices with all of you outside of our newsroom.
In the noughties, rock music topped the charts but after more than a decade, a clearly different trend has emerged in modern Turkish music culture. 
The most streamed tracks in 2022 from Spotify show that electronic and rap music are much more in demand. A bit like everywhere else it seems, but more of that later. Here's the pick of the pops: 
The Top 10 Spotify Songs of 2022 Turkiye
Bi' Tek Ben Anlarım- KÖFT
Arasan da- UZI
İmdat- CAKAL
Paparazzi- UZI
Suçlarımdan Biri- GÜNEŞ
Gökyüzünü Tutamam - CAN KOÇ
Seni Dert Etmeler - MADRİGAL
Nerdesin- EZHEL
Gelmezsen Gelme- Lvbel C5
Affettim- SEFO
Bi' Tek Ben Anlarım: KÖFT
The electro-pop band Köfn's "Bi' Tek Ben Anlarım" (I'm the only one that understands you) single was the most streamed song of 2022 on Spotify Turkiye. Salman Tin is the lead vocal of the male duo Köfn. He plays the guitar and writes the lyrics. Bilge Kağan Etil is the producer and DJ. The song also features backing vocals from the famous Turkish singer Zeynep Bastık.
Salman Tin says that the funny opening scene was shot in front of a tailor shop because that was where he came across someone to alter a tracksuit he bought a year before. 
Arasan da: UZI
Another electronic music producer UZI takes second place on the top 10 list. Rap singer Utku Yalçınkaya's (aka UZI) song "Arasan da" (Even you search) has more rhythmic and electronic forms. The song is produced by Kaleen and Nuri Singör corporation and was watched more than 80 million views on YouTube.
Utku Cihan Yalçınkaya aka UZI, was born in1998, in Istanbul. He reflects street culture a lot in his songs. In most of his songs, he mentions Güngören, the neighbourhood where he was born and grew up. Although he started rap music with the song Acil (Urgent), he became known by the masses thanks to the songs "Krvn" and "Umrumda Değil" (I don't care) in his album "Kan" (Blood) released in 2021, and the album ranked 10th in the "Spotify Top 10" list.
İmdat- CAKAL
The song "İmdat" (Help me!) was produced in April 2022 by another electronic rap artist Çakal. This song has no video clip but despite that it garnered enormous commercial success and a place on the podium.
Cakal, (Jackal in Turkish) whose full name is Emirhan Çakal, is a Turkish rap singer and songwriter. Although he started rap music in 2020 with the song "Kanalım Yok", which he released with Reckol in 2020, his main breakthrough was thanks to the songs "Puşt", (A..hole) which he put out at the end of the same year, and "Perros Blancos" and "Glock", which he released with Reckol in 2021. 
Paparazzi: UZI
At the end of 2022, UZI broke the record as the most listened artist in Turkey via Spotifiy. At the same time, ''EL CHAVO'' and ''Kan'' album released last year took the first two places in the list of the most listened albums. Thus taking over the Top 5 list, he reacted to not receiving an award at the Golden Butterfly Awards (Emmy Awards of Turkiye).
Suçlarımdan Biri- GÜNEŞ
24-year-old Güneş Taşkıran (aka Günes, which means the sun in Turkish) produces R&B, pop, and Turkish rap styles. Her 2020 duet "Dua" (Prayer) with Uzi has been been viewed by more than 50 million times on Youtube.
Gökyüzünü Tutamam - Can Koç
Can Koç is a songwriter and musician born and bred in Istanbul. His first single "Binalar Dar" (Narrow BUildings) was released in the last quarter of 2020 on the Fono Music label. In 2021, he sealed his place on the musical map with his single "Gökyüzünü Tutamam" (I can't hold the sky).
Seni Dert Etmeler - MADRİGAL
Madrigal, (Mavera under its first name), is an alternative rock band formed in 2007 by Ceyhun Kaan Karakaş, Kaan Alıcı and Emre Zeytinci in Kocaeli, Turkiye. The band currently consists of Anıl Erdem Cevizci on vocals and guitar, Kaan Alıcı on bass guitar, Sanlı Akgün on drums and backing vocals, Burak Emir Kamacı on keyboards and backing vocals.
Nerdesin- EZHEL
Ezhel, aka Ömer Sercan İpekçioğlu, is a Turkish rapper, singer and songwriter. He became known for his first studio album Müptezhel (Discredited), which was released in 2017.  He now lives in Berlin after being arrested and jailed for several months in 2018. At the time, authorities claimed his single "Yarınımız Yok" (We don't have a future) encouraged illegal drug use.
Gelmezsen Gelme- Lvbel C5
Lvbel C5, real name Süleyman Burak Bodur, is a Turkish rapper and songwriter. Lvbel C5, who started his musical career with the song "Drop" which came out in 2019, made his real debut in the summer of 2021 with the song "Rally" released with Batuflex.
Affettim- SEFO
Turkish rapper and songwriter Seyfullah Sağır, aka Sefo, began his music career with the song Yalan (Lie) and is widely recognised for his reggaeton style song "Bilmem Mi?" (I already knew).