UK PM Rishi Sunak fined for not wearing a seatbelt
Comments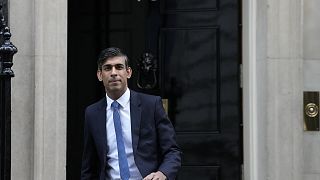 -
Copyright

Frank Augstein/AP
British Prime Minister Rishi Sunak was fined by police on Friday for failing to wear a seatbelt, dealing the Conservative leader a potentially embarrassing blow as he attempts to reverse his party's misfortunes.
Sunak had uploaded a video on social media platform Instagram on Thursday, which showed the premier sitting in the back seat of a car while travelling through north-west England. 
Users subsequently noticed the PM had not buckled up, and widely shared the clip online, catching law enforcement's attention.
Sunak's spokesperson eventually apologised for the "brief error of judgment", but the die had already been cast: local police investigated and ultimately issued the premier with a fine.
Releasing a statement on Twitter, Lancashire police announced the news without directly naming Sunak.
"Following the circulation of a video on social media showing an individual failing to wear a seat belt while a passenger in a moving car... [we] have issued a 42-year-old man from London with a conditional offer of fixed penalty," the tweet read.
In England, a person can be fined up to £620 (€708) for failing to wear a seatbelt, bar certain exceptions such as for emergency services, in a taxi or when a driver is reversing.
The faux pas risks turning into another setback for Sunak, who has been tasked with restoring the Conservatives' credibility after his predecessor, Liz Truss, survived only 44 days in office. A flurry of recent scandals have also severely dampened the party's electoral prospects -- which now trails over 20 points behind Labour in opinion polls.
Sunak had previously been fined while serving as finance minister for breaking COVID-19 lockdown rules in 2020, leading to a major political storm over clandestine Downing Street gatherings -- dubbed "Partygate" -- that contributed to former PM Boris Johnson's downfall and resignation last July.
In a statement released by his office in response to his infraction on the road, Sunak took accountability for his actions.
"The prime minister fully accepts this was a mistake and has apologised. He will of course comply with the fixed penalty," his spokesperson said.