PM Sunak sets out priorities to tackle UK's problems but says there are no 'quick fixes'
Comments
By Euronews, Reuters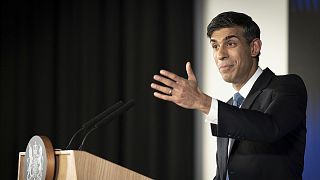 -
Copyright

Stefan Rousseau/Pool photo via AP
After less than three months in power marked by crippling strikes and rising energy bills, UK Prime Minister Rishi Sunak articulated his vision for the country on Wednesday in a speech announcing the government's priorities in the new year.
Sunak, who was sworn in office last October following the collapse of both Boris Johnson's and Liz Truss' governments, promised he would target Britain's most pressing problems, which he identified as rising inflation, illegal migration and debt.
"I want to make five promises to you today. Five pledges to deliver peace of mind. Five foundations, on which to build a better future for our children and grandchildren," Sunak said.
He listed five priorities, on which he promised to deliver: halving inflation, growing the economy by the end of 2023, reducing debt, cutting National Health Service waiting lists and stopping small boats carrying illegal migrants to cross the Channel from France.
"Those are the people's priorities. They are your government's priorities," he said.
Addressing the issue of the UK's economy at a time when the country is slowly slipping into a long recession and inflation is around a 40-year high, Sunak seemed optimistic about the future. 
"We'll see inflation halving, as I said, by the end of this year, and at the same time, I'd like the economy to be growing by then as well," he said.
But while rich in promises, Sunak's message was short on details about how he plans to achieve the results announced. 
It is also unclear whether his speech has appeased the Tory backbenchers who had recently voiced concerns that the prime minister lacked a vision for the country and could not possibly stand a general election next year.
Sunak called for the country to dare "do things differently and better" to achieve results.
"We need to have the imagination and confidence to do things differently and better. The vision to do today, what is needed for tomorrow," he said. "We need to change the way our country works."
He added: "If you work hard and play by the rules, you should be rewarded -- which is why, as soon as we can, the government will reduce the burden of taxation on working people."
The prime minister asked the public to judge him on "the effort that we put in and the results that we achieve", but he said he would not offer "quick fixes".
"Others may talk about change, I will deliver it. I won't offer you false hope or quick fixes but meaningful, lasting change," Sunak told reporters.
"I will only promise what I can deliver, and I will deliver what I promise."