Liz Truss chosen to be the UK's next prime minister
Comments
By Kit Gillet with AP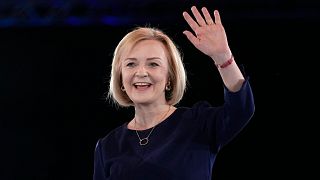 -
It's official, Liz Truss will be the next British prime minister, and will head to Balmoral Castle in Scotland on Tuesday to be appointed by the Queen.
Truss will be the fourth British prime minister in a little over six years, and takes over at a delicate time for the country, with soaring costs of living exacerbated by rampant gas prices caused by the Russian invasion of Ukraine.
Truss won 81,326 of the vote, compared to Rishi Sunak's 60,399 votes, Graham Brady, chairman of the 1922 backbench committee, announced on Monday.
"I will deliver a bold plan to cut taxes and grow our economy. I will deliver on the energy crisis, dealing with people's energy bills, but also dealing with the long-term issues we have on energy supply," Truss said after she was elected. 
"I know that our beliefs resonate with the British people: Our beliefs in freedom, in the ability to control your own life, in low taxes, in personal responsibility," she added. "I know that's why people voted for us in such numbers in 2019 and as your party leader I intend to deliver what we promised those voters right across our great country."
Britain's third female PM
Truss, 47, will become Britain's third female prime minister, after Thatcher, who governed from 1979 to 1990, and Theresa May, who held office from 2016 to 2019.
Pollsters had long tipped Truss to be the likely victor, with her platform appealing more to the 170,000 Conservative party voters able to take part in the election.
In the end, Truss' margin of victory, 57%, was a comfortable one, though short of the 66% that her predecessor, Boris Johnson, received in 2019.
However, there will be little time for celebrations for Truss, who inherits a host of challenges that could make for a grim winter for the United Kingdom.
At the top of her in-tray will be the challenge of dealing with spiralling energy bills for households and businesses this winter. The average UK household energy bill is set to rise to more than £3,500 (€4,000) a year — almost triple the level of a year ago. 
Inflation is now above 10% for the first time since the 1980s and the government is facing increasingly urgent calls to deliver financial support to help millions pay for essential heating and electricity to get through the winter.
After voting closed on Friday, Truss pledged to act within a week to tackle soaring energy bills and rampant inflation, without giving details. She's also proposed a big package of tax cuts, worth tens of billions of euros.
"During this leadership campaign, I campaigned as a Conservative and I will govern as a conservative," Truss said in her victory speech. "I will deliver a bold plan to cut taxes and grow our economy."
"I will deliver on the energy crisis, dealing with people's energy bills, but also dealing with the long-term issues we have on energy supply. And I will deliver on the National Health Service," she added.
Who is Liz Truss?
Truss won the support of many Conservatives with her Thatcherite zeal to roll back state intervention and slash taxes, something her rival, Rishi Sunak, had suggested should wait until inflation drops.
The daughter of a math professor and a nurse, during the leadership campaign Truss emphasised her relatively modest background, at least compared to her rival.
She went on to Oxford University, and was president of the university branch of the Liberal Democratic Party, before switching to the Conservative Party. She was elected as a Conservative MP in 2010.
She was given her first cabinet job in 2014 and eventually rose to foreign minister under Boris Johnson.
In Britain's 2016 referendum on whether to leave the European Union, Truss backed "remain", but afterwards became a strong advocate for Brexit.
Steven Fielding, a professor of political history at Nottingham University, told AP that Truss' politics had played well with the Conservative Party members, but many in the country have low expectations that she will deliver financial relief to the country's poorest.
International stage
While the economy is certain to dominate the first months of her term in office, Truss will also have to lead the UK on the international stage, both when it comes to combating Russian aggression in Ukraine but also in ongoing tensions with the European Union in the aftermath of Brexit.
As foreign minister, Truss pushed hard for changes to the Northern Ireland protocol, which effectively left Northern Ireland as part of the EU's customs union for goods after Brexit, with checks taking place on goods moving between mainland Britain and Northern Ireland rather than within Ireland itself. 
Some believe Truss will trigger Article 16 shortly after taking office, which would allow the UK to unilaterally scrap contentious parts of the deal while plunging the country into a diplomatic crisis with Brussels.