Italy: Black acrid smoke spreads across Rome after a fire in a rubbish dump in the north of the city
Comments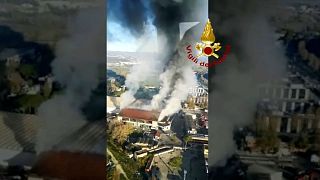 A plume of thick smoke, that's thought to be toxic, has been wafting across Rome's historic centre.
Twelve teams of firefighters have been battling to put out the vast fire at a rubbish dump in the north-east of the city as fears grow of an escalating garbage crisis in the capital.
Residents in the surrounding neighbourhoods were advised to stay inside as the odour of burning refuse spread across the city.
The fire broke out overnight at the TMB waste processing plant, which officials say has been completely consumed by the flames.
As well as the health hazard posed by the smoke, residents are also concerned about what the loss of the essential waste processing facility will mean for Rome's rubbish problem.
City hall said it had called the national civil protection agency and the environmental protection agency to an emergency task force meeting and was monitoring air quality in the area.
"We are waiting to see what the firefighters will determine caused the fire. What is certain is that this was not an unexpected or unforeseen disaster," said Natale Di Cola, from Italy's biggest trade union CGIL.
The environment minister warned back in January that Italy could be sanctioned by the European Union unless authorities in Rome and the Lazio region tackle the burgeoning waste disposal crisis.
The company in charge of collecting Rome's waste, Ama, has long been accused of failing to keep mounds of rubbish from overspilling onto the streets.