North Korea's Kim seeks second meeting with President Trump
Comments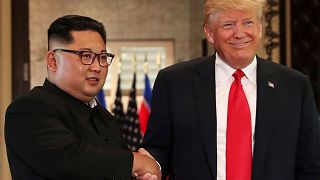 White House spokesperson Sarah Sanders says President Trump has received a letter from North Korean leader Kim Jong Un seeking a second meeting.
Sanders described the letter as "warm" and "positive" and that the White House wanted the meeting to take place.
She told reporters that a military parade in Pyongyang on Sunday was a sign of progress in talks on denuclearization as it did not feature any long-range nuclear missiles.
There is no indication of when or where any second encounter between the two leaders would take place.