A friend among 'foes' – Donald Trump welcomes Italian PM to White House
Comments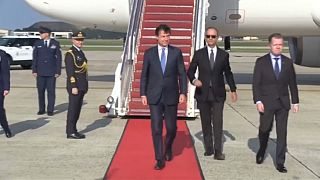 Italian Prime Minister Giuseppe Conte has arrived in Washington ahead of a series of meetings later today with US President Donald Trump.
Conte, who leads a coalition government between two populist parties - the anti-establishment five-star movement and the far right league – could find common ground with the President despite Mr Trump's labelling the EU a 'foe'.
While there has been a long period of tension between the US and EU on matters of trade and military spending, the two leaders have been hugely complimentary of one another, with Trump calling Italy's new leader "a really great guy".
Euronews Correspondent Claudio Lavanga said that despite having only met twice before, once at the G7 Summit in Canada earlier this year and more recently in Brussels for the NATO meeting, it seems as though the two leaders have already kindled a close friendship.
It's not surprising, he said, given the similarities between their electoral campaigns. Both parties were critical of long-term allies and 'indulgent' towards Russia, with Conte agreeing with President Trump on the issue of renewed Russian accession into the G8.
During his time in Washington, Giuseppe Conte will meet Mr. Trump for a private conversation, followed by an expanded bilateral meeting. It's thought the two will cover a range of issues, including their joint peacekeeping efforts in Afghanistan and the recent escalation of the Mediterranean migrant crisis – a crisis which pushed EU leaders to call an emergency summit last month.
"[President] Trump will want to have reassurance that Italy can stick to its promises", said Claudio Lavanga.
For a Prime Minister without any previous political experience prior to taking office, the meeting with Donald Trump is likely to be a key moment for the Italian leader.