Slobodan Milosevic war crimes lawyer shot dead
Comments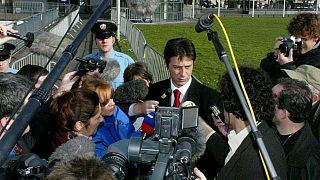 A prominent lawyer who helped to defend late Serbian strongman Slobodan Milosevic has been shot dead in front of his home.
Dragoslav Ognjanovic, 57, was shot dead in front of his apartment building in Belgrade's Novi Beograd neighbourhood on Saturday evening, the Interior Ministry said in a statement.
His 26-year-old son was wounded in the right arm, the ministry added.
Ognjanovic served in the early 2000s on a legal team that helped to defend Milosevic at his war crimes trial before the UN tribunal for former Yugoslavia in The Hague.
Milosevic died in the tribunal's detention unit in 2006 before a verdict was reached.
Ognjanovic had also defended some of Serbia's leading underworld figures.
A number of prominent members of Serbian and Montenegrin organised crime networks have been killed in Belgrade in the past two years in what police have described as a gang war over the illegal drugs market.