Baghdad's ballot box storage site goes up in smoke
Comments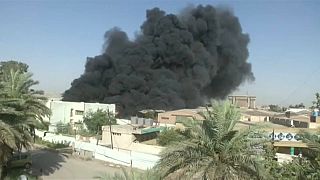 A storage site housing half of Baghdad's ballot boxes from the country's general election caught fire on Sunday.
It comes just days after parliament ordered a national recount.
Last month's legislative elections were won by an alliance headed by Shia Muslim cleric Moqtada Sadr.
Amid allegations of fraud, the outgoing parliament ordered a recount of about 10 million votes.
Prime Minister Haider al- Abdadi has described the fire as a "plot" aimed at Iraq's democracy.
Officials votes from one district were being held at the facility and some ballot boxes may have been burned but most were safe.