Palestinian President Abbas taken to hospital
Comments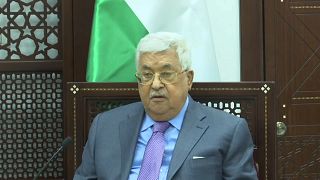 The Palestinian President, Mahmoud Abbas, has been taken to hospital for the third time in a week.
Palestinian officials say the President was urged to seek further treatment following an ear infection which failed to heal.
A spokesperson at the al-Istishari Hospital say the results of tests have been good and that his overall condition is reassuring.
83 year-old Abbas has suffered a number of health scares recently which have renewed concerned over who would succeed him as Palestinian leader.
He has a long history of health issues.
But the country hasn't held presidential elections since 2005 due to the split between Abbas' Fatah Party and Hamas, which rules Gaza.