'With friends like that who needs enemies': Tusk on Trump
Comments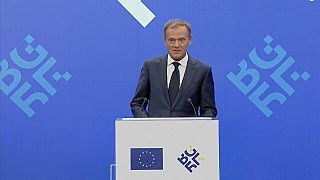 European Union leaders had an eve-of summit dinner in Sofia last night, a moment of relaxation perhaps before the real work begins today?
The original aim of the get-together was to focus on the western Balkans and the EU's renewed commitment to the region.
But then Donald Trump stirred things up by among other things, pulling out of the Iran nuclear deal.
The 'Trump effect' had earlier provoked a withering condemnation of the US President from the EU's Donald Tusk.
Donald Tusk, European Council President: "Looking at the latest decisions of President Trump someone could even think 'with friends like that who needs enemies?'
Faced with US trade tariffs, salvaging the Iran accord and dealing with the consequences of US sanctions on Tehran, the summit has been hijacked by the need to respond to Trump.
The western Balkans may have just slipped down the summit agenda.