Erdogan pursues EU accession at manifesto unveiling
Comments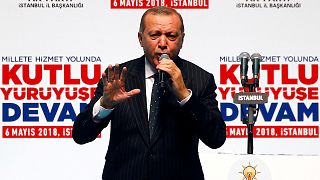 EU accession, counter-terrorism and the economy lay at the heart of President Recep Tayyip Erdogan's manifesto launch ahead of Turkey's general election on June 24.
"One child would be helpless; two children would be rivals against each other; three children would be a blessing"

Turkish president
The policy plans were unveiled on Sunday at the Justice and Development Party (AKP) congress in Istanbul.
Referring to his ambitions to join the 28-member European bloc, Erdogan told a crowd of supporters: "We have never given up on our goal of full membership to the EU, although lately we did not see the same determination and desire from our counterparts."
Talks for Turkey to join the Union began in 2005, but negotiations were suspended in 2016 amid concerns about Ankara's purges of the military and civil services, which were prompted by a failed coup.
Erdogan also promised to clean up militant activity on Turkey's borders, saying operations "similar to Operation Euphrates Shield and Operation Olive Branch" will be launched in the new term to "eradicate all terrorists".
The military campaigns saw Turkish soldiers being dispatched to northern Syria as part of efforts to wipe out ISIL and Kurdish fighters in the region.
"Our soldiers are ready for new missions," the AKP leader said, before adding that inflation and interest rates will also go down should Turks grant him a second presidential term. Consumer price inflation in Turkey peaked at almost 11% in April, significantly more than the estimated figure for the Euro area (1.2%).
Erdogan also took up a traditional theme of his conservative party, calling on parents to have more children: 
"I have some advice for young couples - one child would be helpless; two children would be rivals against each other; three children would be a blessing. Strong countries consist of strong families. They have deceived us with contraceptive pills for a long time."
Originally planned for November 2019, Erdogan announced on April 18 that polls for the next President and 600 parliamentarians would be brought forward amid calls for a snap election from his allies in the Nationalist Movement Party (MHP).
The 64-year-old will stand again in the presidential race alongside four other candidates: Muharrem Ince (Republican People's Party, CHP), Selahattin Demirtas (Peoples' Democratic Party, HDP), Meral Aksener (Good Party, IYI) and Temel Karamollaoglu (Felicity Party, SP).
Erdogan has governed Turkey since 2003, serving 11 years as Prime Minister before ascending to the presidency in 2014.
His manifesto launch comes hours after fellow presidential candidate Demirtas said holding a fair election in the country would be "impossible" while a state of emergency is in force.
The Kurdish HDP leader, who has been in detention since 2016 on security charges, told Reuters via a handwritten note presented by his lawyer: "Demonstrations are banned, talking is banned, criticizing the government is banned, even defending peace is considered terror propaganda.
"Hundreds of opposition journalists are arrested, dozens of TV and radio channels are closed.
"It is impossible for there to be fair elections in such an environment."
As the second-largest opposition party, HDP poses the biggest threat to AKP's campaign ahead of the ballot.
Yet prosecutors allege that Demirtas and hundreds of other detained HDP members have ties to The Kurdistan Workers' Party (PKK), a militant group which was waged a decades long armed struggle against Ankara in an effort to establish Kurdish autonomy in the region.
Meanwhile HDP have denied the claims and human rights lawyer Demirtas has slammed his imprisonment.
"There is no legal obstacle to my candidacy because I am not convicted," he said.