Young people in UK and Netherlands among Europe's least religious
Comments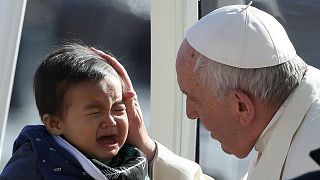 The decline of Christianity in Europe has been highlighted in a new report that claims young people are turning their backs on faith.
The research reveals a majority of young people in a dozen European countries say they are not affiliated to a religion.
They include the likes of Belgium and the Netherlands, who experts say have traditionally had strong religious cultures.
The report — published by Stephen Bullivant, a theology professor from St Mary's University in London — gives further weight to the claim Christianity is on the decline.
A study by the Pew Research Center in 2015 said Europe's Christian population is expected to shrink by around 100 million people in the coming decades.
It said while Christians will remain the largest religious group in Europe, Muslims will make up 10% of the continent's population by 2050, up from 5.9% in 2010.
Key conclusions
Other findings of Bullivant's report include:
The Czech Republic, with 91%, has the largest proportion of young adults (16-29) with no religion.

Poland is at the other end of the scale: just 17% don't have a faith.

A majority of this young adults in Estonia, Sweden, Netherlands, UK, Hungary, Belgium, France, Denmark, Finland, Norway and Spain don't associate with a religion.

The biggest concentration of young adults identifying as Christians can be found in Poland (83%), Lithuania (74%) and Ireland (59%), while the smallest proportions are in Czech Republic (9%), Sweden (18%) and the Netherlands (19%)

The largest proportions of young Muslims (16-29), of the European countries studied, can be found in France (10%), Belgium (10%) and Austria (10%).
What they said
Professor Bullivant said: "The differences in the religiousness – or, as dominates in many countries, non-religiousness – of 16-29 year-olds in our sample of European countries is genuinely remarkable. There are, moreover, some genuine surprises in the data.
"For example, Ireland's young adults are – contrary to recent reports – still remarkably religious, at least by the standards of other highly developed European nations. 
"Meanwhile, countries that had, until quite recently, traditionally strong religious cultures – Lithuania, Belgium, Netherlands, Austria – look to be in serious trouble, in terms of the coming generations."