Western leaders quiet as Putin celebrates landslide election victory
Comments
By Yuliya Talmazan with NBC News World News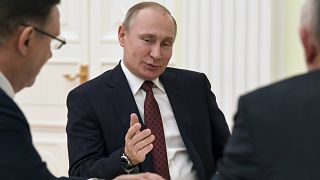 -
MOSCOW — Congratulations poured in from around the world as Russian President Vladimir Putin celebrated his landslide election win on Monday. But one group was notably silent: some of the heads of the West's leading democracies.
With 99.84 percent of the votes counted Monday morning, Putin won with a resounding 76.6 percent — nearly 65 percent ahead of his closest rival, the Communist Party's Pavel Grudinin, and bettering his own result from 2012 by 13 percent.
Chinese President Xi Jinping, an ally of the Russian government, sent a congratulatory message to Putin, and added that the current China-Russia partnership is "at the best level in history," according to the official Xinhua News Agency.
The leaders of Azerbaijan, Belarus, Iran, Japan, Kazakhstan, Moldova and Saudi Arabia all congratulated Putin, as did the leaders of Bolivia, Cuba and Venezuela.
Meanwhile, the reaction from Western countries that have been questioning the policies and actions of Putin's government on many fronts has been decidedly muted.
A German government spokesman said Chancellor Angela Merkel would congratulate Putin soon, adding that while Berlin has differences of opinion with Moscow, it's important to keep up contact.
There was no reaction from the United States as of 12:30 p.m. ET Monday. The U.S. took a tougher tone on Russia last week, issuing long-awaited sanctions against Russian "cyber actors" for interference in the 2016 U.S. election.
French President Emmanuel Macron did speak with Putin by telephoneon Monday, wishing Russia and its people "success with the modernization of the country on the political, democratic, economic and social fronts."
"I think there is a feeling that we have been wronged and that breeds unity"
But a spokesperson for British Prime Minister Theresa May said Monday that the U.K. will comment on the outcome of the election when it has seen an assessment by the Organization for Security and Cooperation in Europe's election observation mission. The OSCE has already released a report suggesting the election was well administered, although characterized by restrictions on fundamental freedoms and a lack of genuine competition.
Russia's diplomatic relationship with the United Kingdom turned particularly sour just days before the election in light of the poisoning of former Russian agent Sergei Skripal and his daughter in England.
In an intensifying spat between the two countries, Russia expelled 23 British diplomats on Saturday in a retaliatory measure after Britain accused the Kremlin of responsibility for the poisoning and kicked out 23 Russian diplomatslast week.
May said last week that she had spoken to President Donald Trump, Merkel and Macron, who all agreed to "cooperate closely" in response to the killing and to "stand up for the rules-based international order which Russia seeks to undermine."
Putin denied Russia was behind the attack during a post-election news conference Sunday night, calling the incident "a tragedy."
"Any sensible person understands that it's a complete fantasy, rubbish, nonsense, that someone in Russia might do something like this on the eve of the presidential elections and the World Cup," Putin said.
This frostiness from the West didn't dent restaurant worker Victor Trakhin's enthusiasm for Putin, however.
"I am with Putin. Seventy-six is not enough — It's 100 percent for me," Trakhin said, a Moscow resident.
He says he finds the muted reaction from the West expected.
"They are afraid. What else can they say? They are not happy Russia is someone to contend with," he said.
Retiree Stanislav Maslov, 79, disagreed, and said he wished relations with the West were better.
"I also want normalized relations with the rest of the world," said Maslov, who added that he had voted for Grudinin and that he thought Putin's share of the vote would be significantly lower.
With six more years of Putin's rule, Maslov said he wanted the president to pay more attention to the economy and internal affairs.
Some mused about how the Skirpal poisoning affected the results of the election.
Anastasia Esupova, 24, a creative director and St. Petersburg native, called the case "just another provocation," but thinks the diplomatic dispute it caused may have played in Putin's favor.
"A lot of our citizens want to see a strong, military image," Esupova said. "I think there is a feeling that we have been wronged, and that breeds unity."