Ukraine: Anti-government activists and police clash near parliament
Comments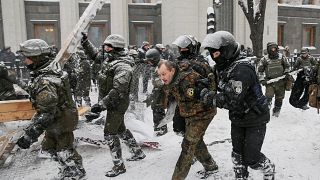 At least 10 people were hurt in clashes in Kiev on Saturday as police moved in to clear an anti-government protest camp near Ukraine's parliament.
It was set up last year by supporters of opposition leader and former Georgian President Mikheil Saakashvili, who was deported from Ukraine to Poland last month after he was stripped of his Ukrainian citizenship.
Dozens of people were detained.
Grenades, fire and smoke bombs were found in the camp during the raid, police said.
The camp is an offshoot of a broader opposition movement that holds regular peaceful protests in Kyiv demanding the resignation of President Petro Poroshenko over a stalled reform drive.
with Reuters