Finland and Estonia reveal costs of building undersea rail tunnel linking their two capitals
Comments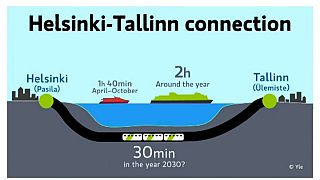 The world's longest undersea rail tunnel linking the Arctic region with the heart of Europe could cost up to 20 billion euros and be opened by 2040.
Following a feasibility study, Finland and Estonia want to build a permanent undersea link between their two northern capitals, situated on the opposite sides of the Gulf of Finland.
The FinEst Link would connect the cities' airports and it would also link up with Rail Baltica, a line between Tallinn and Warsaw that's due to be completed in 2026.
Tens of thousands of Estonians work in the Helsinki region, many of whom commute over the sea weekly, and many Finnish tourists visit Tallinn.
The proposed 103 km long tunnel would shorten the travel time between Helsinki and Tallinn to about 30 minutes, from at least 90 minutes currently by fast ferry.
"Estonia will be connected to central Europe ... and we must not stop here," Estonian Prime Minister Juri Ratas said at a conference in Tallin.
"I have heard that many people in Finland ... say that they feel like living on an island. But it does not have to be like that."
The feasibility study estimated the tunnel would cost 13-20 billion euros, hoping that 40 percent of the costs would come from the European Union.
The governments said they would evaluate the results in more detail during the spring.