Europe's food standards row is more than just east v west
Comments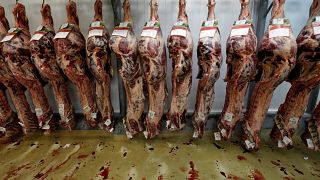 By Dariusz Kalan from Bratislava and Prague
All the governments need to channel these emotions somehow: they chose food.

Analyst, German Council on Foreign Relations
The Eastern flank of the EU has long complained that some food companies use different, often cheaper, ingredients in products sold in their markets.
Two studies, made in November 2016 and October 2017 by Slovakia's State Veterinary and Food Administration (ŠVPS), showed that more than half of tested meat, milk, bread and fish, among few other products, are low-quality versions of famous brands.
"When we published these studies, I spoke with producers and none would admit using differing composition of products", said Jozef Bíreš, head of the ŠVPS. "But I am glad to see that some have later changed their recipe".
After similarly disturbing findings had been announced in the Czech Republic, Hungary and a few other countries, the leaders of the so-called Visegrad countries (Hungary, Slovakia, Czech Republic and Poland) have started to present joint demands to the European Commission to take this problem seriously. Their efforts led Jean-Claude Juncker, the Commission president, to slam food companies in his annual state of the Union speech for treating some citizens as "second-class consumers".
An opportunity
The scandal has given an opportunity to governments in central Europe to champion their electorates in Brussels and to a standard around which to base their complaints of unequal treatment compared to the wealthier west.
"The dual quality issue primarily shows domestic electorates that their governments are active and protecting their interests in the EU. It has also shown that if the region unites, it can have significant influence", Tomáš Prouza, former Czech state secretary for European affairs told Euronews.
Making "double standards" a European-level problem would thus sound like a Visegrad success, both internationally and domestically. But, paradoxically, it can also easily create tensions within the bloc.
An east-east problem
In the most sensitive position is Poland, by far the largest V4 country – and one of the EU's leading food exporters with a long history of selling agricultural and processed products to its southern neighbours, the Czech Republic and Slovakia. These markets alone are worth around €2 billion a year to Poland's food industry.
The two have clashed with Poland repeatedly in recent years on issues around the quality of meat products and unethical practices, such as selling industrial salt for human consumption.
"Poland has been sceptical about the whole issue and has been slowing down the activity of the other V4 members", said Prouza. "I expect the Polish government to be formally on board but very passive".
According to Andrzej Gentner, director of the Polish Federation of Food Producers, the government's reticence is "logical" as the campaign threatens to backfire on Polish producers.
"I understand we belong to the Visegrad Group, but in practice, things don't look so pretty as at the political level".
"Our exporters have long been experiencing unfair protective measures, especially in the Czech Republic", he added criticizing the national studies on food quality for an unclear methodology.
Further complicating the issue is the election of businessman Andrej Babiš as prime minister of the Czech Republic after his party, Action of Dissatisfied Citizens (ANO), won by a landslide in October elections.
Babiš owns Agrofert, a conglomerate operating in the food and agriculture industries.
"I have no doubts he will use both this campaign and political tools to strengthen further Agrofert's position in the country", Gentner commented. "We have been defending Polish producers for years, and we know how hostile Babiš's stance is towards them".
Babis himself told Slovak TREND weekly that, having stepped down as CEO of Agrofert he has little influence on the company although he will not give up his ownership.
Keeping a lid on division
Despite the underlying conflicts of interest within the four nations, so far compromises have been found to maintain diplomatic unity.
According to Milan Nič, senior analyst at the Berlin-based German Council on Foreign Relations, who formerly worked for Slovakia's foreign ministry, the fact that Poland was not slammed as food exporter is "a credit to Visegrad solidarity".
"Currently, food inspections in the Czech Republic and Slovakia are oriented against multinational, not Polish companies," he observes.
An EU wedge?
Whether a "double standards" campaign will drive a wedge through Visegrad is one thing, but critics also wary it could further widen the gap between the European Commission and the west and east within the bloc.
The campaign was initiated and then championed by Slovakia, the only Visegrad country to use the euro. Slovakia now wants to integrate more closely into the EU's core – unlike Poland, whose government has driven a wedge between Warsaw and Brussels. Under Viktor Orbán, Hungary too has been fiercely critical of the EU across a range of policy areas.
Brussels may try to exploit issues such as that of the food scandal to separate favoured states from more difficult governments, according to Nič of the German Council on Foreign Relations.
"Whatever constructive proposal comes from those V4 states who are not involved in tensions with the commission has a great chance of being supported", he said, noting that the food quality issue should be seen in the context of a current discussion on a two-speed Europe.
"In the commission, there is a clear effort to appreciate those who are prepared and willing to integrate further".
Quick fix
So far, the European Commission is treading carefully. It made €1 million available to its Joint Research Centre to develop common testing standards. It also issued a set of guidelines to help national authorities to determine whether a company is breaking EU laws when selling products of dual quality.
But the commission denied it wants to amend the EU consumer protection and food safety law, much to the disappointment of Slovakia and the Czech Republic, who say the current law does not adequately address the duality of food quality.
"We are currently not planning changes in legislation, which would take a long time. We want this issue to be solved quickly", Christian Wigand, a commission spokesperson, said in an e-mail response to questions from Euronews.
Under growing strain or nor, the unity of the Visegrad Group is cemented by the resentment of their societies around complaints that western European countries treat them like second-class EU members. "All the governments need to channel these emotions somehow", said the German-based analyst Nič said.
"They chose food because they did not have anything else close at hand".