Welcome to Berezniki, the city swallowed by sinkholes
Comments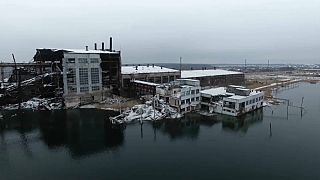 Berezniki, in Russia's Ural mountains, is slowly disappearing into the ground.
The industrial city, with a population of over 150,000, was built on top of a salt mine. Since the 1980s, huge craters have ripped the soil apart, gradually swallowing factories and offices, demolishing a school and tearing houses apart.
A report by Radio Free Europe / Radio Liberty shows some of the consequences of this instability amongst the local population.
In 2007, Berezniki's largest sinkhole sent shock waves across the city.
"There was such panic. People who lived nearby moved their whole families to stay with relatives in other towns," recalls Valery Mets, a Soviet Union war veteran and former miner in Berezniki.
Mets is now at the centre of a campaign calling for residents to be relocated.
"This is one of the sinkholes in our town. You can see the [old] mine construction office, where they were supposed to be in charge of building and repairing the mines", he says, pointing to a completely flooded building.
"I don't know how deep it is. Nobody has measured it."
Mets sends out letters addressed to the governor demanding financial compensation for the "life-threatening" state of the housing.
"It must be the 10th, at least," he says, as he collects a letter from the hands of local Irina Khoreva, whose house has been damaged.
Cracks can be seen on Khoreva's ceiling as she complains about the lack of attention from authorities. "They don't even offer temporary housing," she says.
According to the report by Radio Free Europe / Radio Liberty, authorities say they are monitoring the situation closely, providing new housing when needed.
In 2016, President Vladimir Putin asked Berezniki authorities for an explanation for the delay in building houses for threatened residents.
"We live in such a state we're constantly worried that we'll suddenly [slip down] somewhere," says Khoreva.
Part of her ceiling is said to have collapsed after the interview but a local official said the incident was unrelated to the sinkholes.