Man in vegetative state for 15 years 'shows signs of consciousness' after pioneering therapy
Comments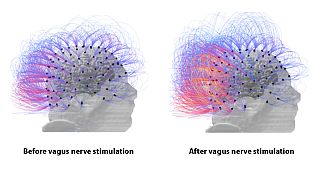 A man left in a persistent vegetative state after a road smash has shown signs of consciousness after pioneering therapy in France.
The treatment involved fitting an implant to stimulate the vagus nerve, which runs from the brain to major organs elsewhere in the body.
The man, 35, left with severe brain injuries, appeared to flicker back into consciousness after the therapy, according to a study in Current Biology)30964-8.
The case challenges the idea there is no hope of improvement for patients that have been in a vegetative state for more than a year, says the study's authors.
After one month of nerve stimulation, the patient showed significant improvements in attention, movement and brain activity, according to the researchers.
The man – who moved from being in a vegetative state to a "minimal state of consciousness" – began to respond to simple demands, such as following an object with his eyes and turning his head. He also seemed more alert and able to stay awake when his therapist read him a book.
"Cerebral plasticity (the brain's ability to change) and brain repair are possible even when hope seems to have disappeared," said Angela Sirigu, a researcher at the Marc Jeannerod Institute of Cognitive Sciences in Lyon.
Other specialists have urged caution, however, saying the study was based on just one person and more research was needed.
"This could be another exciting advance, but I would be cautious about these results until they are replicated in more patients," said Vladimir Litvak, a professor at the University College London's Institute of Neurology.
"It is difficult to know on a single case the probability that this treatment works in a generalised way to other patients."
Dr David McGonigle, a neuroscientist at Cardiff University said: "The vagus nerve stimulation may not work as well in other patients, as the individual peculiarities of each case of brain damage could limit the effectiveness of the technique."