At least 6 dead as torrential rain triggers severe flooding in central Italy
Comments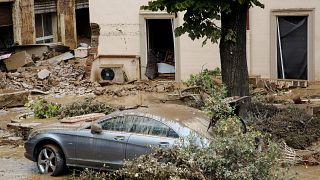 Torrential rain across Italy has triggered flooding that has killed at least six people in the Tuscan port town of Livorno.
The Italian news agency ANSA said the bodies of a 4-year-old boy, his parents and grandfather were found in the flooded basement of their home.
Several people are also reported to be missing.
Strong winds toppled trees and many parked cars were nearly submerged by flood waters that also left streets clogged with mud.
Mayor Filippo Nogarin said a "crazy amount of rain" hit the city in the space of a few hours causing several streams to overflow.
"The situation is dramatic," Nogarin was quoted as saying by Italian newspaper Corriere Della Sera.