Will the attacks in Barcelona and Cambrils harm Spain's tourism sector?
Comments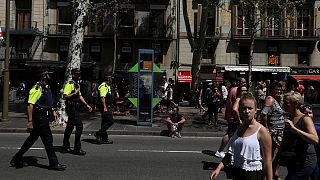 The terrorist attacks in Barcelona and Cambrils on August 17 could signify a heavy blow to Catalonia´s touristic heart.
Las Ramblas is Barcelona's main artery of tourism and Cambrils a placid seaside resort enjoyed by both locals and foreigners.
Unsurprisingly, then, nine out of the 15 attack victims were from Europe and the rest of the world.
Spain welcomed 75 million tourists in 2016, making it the third most-visited country worldwide. The tourism sector accounts for 11 percent of gross domestic product (GDP).
Catalonia, Spain's tourism powerhouse, receives almost a quarter of the country's visitors. In Barcelona, one of the most-popular European cities among travellers, the effect is skyrocketing: tourism accounts for 15 percent of the city's GDP.
Attacking the tourism industry is one of the objectives of jihadist terrorism, according to Thomas Baumert, professor of economics and statistics at Madrid's Cardenal Cisneros university.
"Tourists travelling for leisure tend to be less alert," he said. "What's more, attacking places packed with tourists grants them an international scope for the terrorist act. The more foreigners affected by the attack, the larger will be its international media coverage. They are greatly interested in this."
A few days after the attack, the mayor of Barcelona, Ada Colau, held a press conference with representatives of the tourism industry. Authorities and operators said there had been very few cancellations of hotel bookings after the attack, although they did not offer any figures to support this claim.
"There is usually no lasting effect in tourism", said Baumert, who co-authored the book The Economic Repercussions of Terrorism. "What we saw in cities like Madrid or London, is that there needs to a high frequency in the attacks or the sensing of a latent threat in order to have high security concerns over a city."
A latent threat would be, for example, if the terrorism suspect were at large for a long period of time.
There is nothing new in jihadist terrorism hitting touristic places.
Attacks in Brussels, Paris and Nice show there are consequences for the tourism sector.
Experience shows that the amount of visitors drops after a terrorist attack. Though, as stated by Baumont, growth seems to comes back after a short period of time. Paris only needed a year to recover. Just recently Paris' Regional Committee of Tourism announced visitors to the region around the French capital have grown by 10.2 percent. Thus, after taking a heavy dip in 2016, the City of Light is well on its way to reclaiming its former touristic glory.
Spain's tourism sector is the most competitive in the world, according to a ranking by the World Economic Forum.
Among the country's most-valued features are its heritage and landmarks, as well as its infrastructure and security.
Spain was close to becoming the most-visited country in 2017: it is neck-and-neck with the US and not far away from number one, France.
To top the list, Spain needed to beat France's 83 million visitors of the previous year – something which seems increasingly difficult after the attack.
Spain brings a feeling of safety to tourists. However, let's not forget that this is a country which has seen terrorism for decades. Aside from the jihadist attacks in Madrid in 2004, Spain has seen long years of conflict with Basque terrorist group ETA.
According to Baumert, the fight against ETA – who recently handed over its arsenal to the authorities – has hardened the security forces and sophisticated its anti-terrorism techniques.
Tourists that have visited Brussels or Paris in recent years have had taken home a strange postcard: a high police and military presence in the streets. This includes armoured vehicles. The Catalan government already announced that it will increase police presence in tourist areas. But Spain's military will keep off the street for now, as the central government has decided not to increase the terror alert level.
"We used to think that a massive deployment of police and military on the streets could have a dissuasive effect on tourism. But you can compare it to security at the airports. Before 9/11, the current security checks were out of the question. We have now gotten used to them", said Baumert.
The tourism sector shows a great resilience to terrorist attacks. There is also the possibility that public opinion is becoming desensitised to the news of terrorism. Thus, perhaps the impact on mobility is decreasing: London's arrivals recovered even quicker than Paris from its series of terrorist attacks.
With that said, nobody is blind to the fact that we are playing with fire. A fragile tourism sector could cause great harm to the economy. Especially in Spain, a country that still battles high unemployment (18 percent) and prides itself on a tourism sector that substantially contributes to creating jobs.
By Albert Guasch Rafael