Deadly shooting spree in Nigerian church
Comments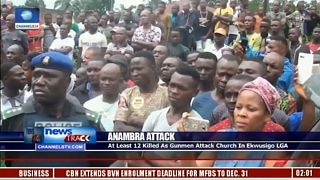 At least 11 people have been killed and 18 wounded in a shooting spree in a church in southeastern Nigeria.
It is thought a dispute between members of the local community was behind the attack in the Catholic church in Ozubulu in the state of Anambra.
Willie Obiano, the Governor of Anambra State, visited the scene and spoke to the crowds of people gathered outside.
"What has transpired here that lead to the killing of very innocent people, and in all places a holy place inside the church, is very sacrilegious," he said.
"We are not going to relent until we bring those that perpetrated this heinous crime to book."
Obiano also visited some of the victims, including children, being treated in hospital.
The St. Philip Catholic Church was full of worshippers, including many families.
Police say they believe a man who was the intended target of the gunmen was actually not present and so escaped the attack.
Nigeria's southeast is predominantly Christian and acts of violence inside churches are rare.
The country is struggling to deal with insecurity and a humanitarian crisis.
The Islamist militant group Boko Haram has killed more than 20,000 people since 2009.