Calls for calm in Paris amid clashes over police shooting
Comments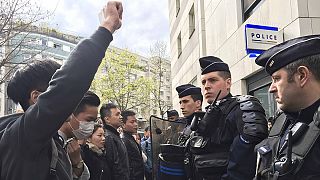 There are calls for calm in Paris after the third night of clashes between police and protesters from the Chinese community.
The demonstrations were sparked after the police killing of a Chinese man in his home on Sunday.
The dead man's family says while it understands the shooting has caused turmoil it wanted to launch an appeal for calm.
French police say they have opened an inquiry after the 56-year-old was shot dead in front of his family by officers investigating a dispute between neighbours.
Police say the man attacked officers with a pair of scissors, but some media reports say family members dispute that, saying he'd been cutting fish at the time and there was no deadly threat.
Beijing is demanding a thorough investigation after calling in a French diplomat for explanations.