Syria conflict: Rebels launch new assault in Damascus
Comments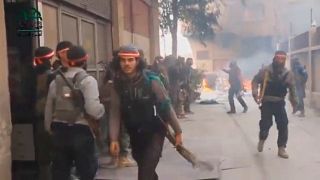 Two days before new Syria peace talks, rebels and jihadist allies stormed a government-held area in northeast Damascus on Tuesday.
It was the second such attack in days by the insurgents, targeting an area they had seized on Sunday before being forced to retreat.
For rebels, the assault shows they are still able to wage offensive action, although their situation remains difficult near the capital and across Syria as a whole.
The government says the assault is being waged by fighters from the Nusra Front, a jihadist group that was al Qaeda's affiliate in the Syrian war until it declared they had broken off ties last year.
Rebel groups launched the attack from their Eastern Ghouta stronghold, to the east of the capital.
President Assad's forces have hit back – with ordinary men, women and children caught in the middle.
Government forces have escalated military operations against Eastern Ghouta in recent weeks, seeking to tighten a siege on the area.
The White Helmets rescue group said that two civilians were killed and eight injured after Assad's warplanes targeted civilian areas on Monday in Hamouria, Eastern Ghouta.
2 civilians killed and 8 injured after regime's airforces targeted civilian areas today in Hamouria - E.Ghouta.https://t.co/llVBj8KDBtpic.twitter.com/otoXIyZ3WW

— The White Helmets (@SyriaCivilDef) 20 mars 2017
The British-based Syrian Observatory for Human Rights, which monitors the conflict, said at least 143 air raids were conducted by the Syrian army on rebel held eastern parts of Damascus, mostly targeting Jobar, since the rebels launched their offensive.
Around half a million people are estimated to have died since the Syria conflict began more than six years ago. Many more have been uprooted from their homes.
Six years into the #SyriaCrisis, the future remains uncertain. https://t.co/Omz6FKmBYLpic.twitter.com/hJ8Rovp3fn

— UN Refugee Agency (@Refugees) 20 mars 2017
with Reuters