Hungary's president re-elected for second five-year term
Comments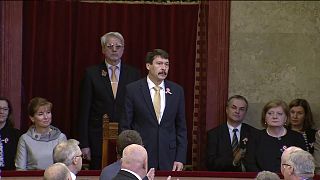 Hungary's president Janos Ader has comfortably won another five years in office following a parliamentary vote.
The 57-year-old's re-election was widely expected, despite a second round run-off. A long-time member of Hungary's ruling Fidesz party and ally of Prime Minister Viktor Orban, 131 lawmakers voted in favour of extending his term as president
Addressing parliament following his re-election, Ader said: "I would like to continue my work according to the values and principles I stated here in parliament five years ago. I said then that as president both in and outside the country I would be the spokesman for Hungarian interests and values."
Since being elected to the largely ceremonial role in 2012, Ader has provided solid backing for Orban
Leftist opposition candidate László Majtényi, who got 39 votes, said he ran to keep democratic principles alive in a climate of growing authoritarianism.
"It was an exceptional opportunity to talk about freedom in Hungary. To talk about a future 4th republic which will treat every single citizen with equal dignity; where the state will be controlled by independent institutions and where these institutions protect the rights and interests of citizens," Majtényi said.
From Budapest, Euronews' Andrea Hajagos said: ''In terms of the big political debates in Hungary over the past five years, Janos Ader has been criticised for not expressing any position on some of the government's most controversial policies. Few expect things to change in this term, at least until next year's parliamentary elections.''