Assad describes US forces in Syria as "invaders"
Comments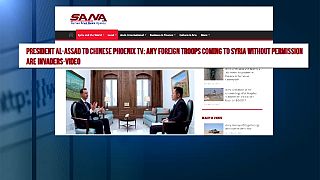 The Syrian President has described the US forces in his country as "invaders", saying they are there without government permission.
The comments from Bashar al-Assad were made to a Chinese TV station and reported widely in Syria.
After news the US had added 400 soldiers to its forces backing Syrian militias fighting ISIL, Assad dismissed the efforts as "just a few raids".
The Syrian leader said there was a possibility of cooperation with new President Trump but he has yet to see anything "concrete" in this regard, describing the talk as "rhetoric".
US troops are helping Syrian militias prepare for an assault to oust ISIL fighters from their stronghold of Raqqa.
Russian forces are backing the Syrian Army, which also says it is advancing on Raqqa.