Netanyahu to Putin: Israel fears Iranian foothold in Syria
Comments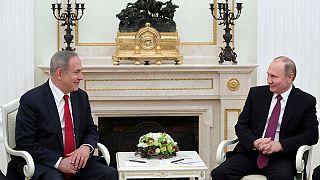 President Putin has hosted the Israeli prime minister in Moscow to discuss Syria.
For Benjamin Netanyahu, it was an opportunity to voice opposition to what he sees as Iran's attempts to install itself militarily in the country.
Iran is Israel's bitter enemy – but like Moscow, Tehran has staunchly defended President al-Assad, providing militia fighters to take on the rebels.
Russia is seen as crucial in reaching a deal on Syria's future.
"I made it clear that regarding Syria, Israel has no objection to an agreement in Syria, but we strongly oppose the possibility that in such an agreement Iran and its proxies will maintain a military presence in Syria," Benjamin Netanyahu said.
Israeli leaders have cited Iran's increasing influence in the region during the six-year-conflict.
Netanyahu has said Israel has carried out dozens of strikes to prevent weapons smuggling to the Iranian-backed Hezbollah group in Syria.