Philippine soldiers recover remains of beheaded German hostage
Comments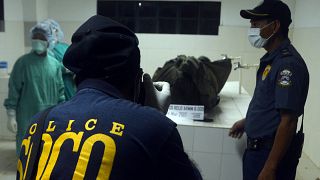 In a shallow grave, Philippine soldiers have found the remains of a German man beheaded by IS-linked militants Abu Sayaff last week.
The head and body of Jurgen Kantner are being kept in a morgue in the remote province of Sulu as documents to transport the body are prepared.
The 70-year-old was killed after a deadline for a ransom expired. Philippines President Rodrigo Duterte apologised to Germany for failing to save the hostage, while insisting ransoms should not be paid.
The Philippines military vowed to bring Kanter's killers to justice, while continuing operations to free other captives.
It is believed Abu Sayaff is currently holding 26 hostages, and experts say it is unlikely they will free them without payment.