Dutch 'abortion boat' blocked by army in Guatemala
Comments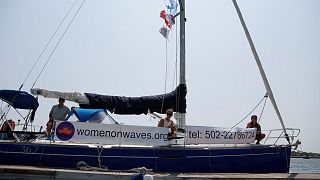 A boat used by pro-abortion activists has been blocked by authorities in Guatemala, where the campaigners had docked looking to help women seeking to end their pregnancies.
The vessel, registered in Austria but operated by a Dutch non-profit organisation, was detained by the military.
"Women on Waves" provide abortion services in countries where it's illegal.
"They thought this would be a good opportunity to come to Latin America for the first time to promote the decriminalisation and legalisation of abortion as a human right for women," said Quetzali Cerezo, the director of a Guatemalan women's rights group which helped the Dutch NGO.
The Guatemalan army said it was stopping the group from operating as their activities were against the constitution.
The boat's arrival at the Port of San Jose, about 100 kilometres south of Guatemala's capital, provoked anger among several Christian organisations.
"It's a sin. Why don't you go to Holland and kill children over there? Go to Holland. Why come to Guatemala? We are already cursed enough in Guatemala, we don't need more," said anti-abortion activist Marleni Arias.
"Women on Waves" claim tens of thousands of illegal abortions happen every year in the central American country – the third highest cause of death among mothers.