The collapse of a section of rock created this impressive "firehose flow" at Kīlauea Volcano's Kamokuna.
The phenomenon appeared last month but reappeared a few days ago.
Moulten rock spouting into the ocean creates explosions and steam at the Hawaiʻi Volcanoes National Park.
It is not known how long the flow will continue.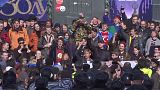 Thousands of people crowded into Moscow's Pushkin Square on Sunday for an unsanctioned protest against the Russian government.