Thousands of Halloween revelers took to the streets of Tokyo's trendy Shibuya shopping district on Sunday (October 30).
This year, several blocks were turned into a temporary pedestrian zone for the first time to keep huge crowds from disrupting traffic.
While Marios, zombies, Pikachus and witches flooded the streets, scores of riot policemen were patrolling the streets doing crowd control.
Halloween celebrations are relatively new in Japan and have surged in popularity only over the past decade.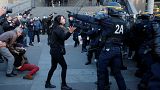 Tensions were running high on Paris' Bastille Square on Sunday night (April 23), at the end of a protest called by left wing militants.