Exports boost US economic growth
Comments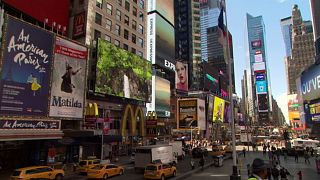 The US economy is performing strongly. GDP grew at its fastest pace in two years between July and September – up by 2.9 percent from the same period last year, a big increase on the 1.4 percent pace in the second quarter.
At +2.9% Q3, US #GDP best print since '14Q3. Rebound is encouraging aftr 1% growth over past 3Qs but props (#export & inventories) temporary pic.twitter.com/yBGxTThryW

— Gregory Daco (@GregDaco) October 28, 2016
There was a surge in exports and companies built up their inventories after running them down in the second quarter.
That offset a slowdown in consumer spending, which accounts for more than two-thirds of US economic activity. It increased at a 2.1 percent rate, down from the second quarter's robust 4.3 percent
The first estimate of growth comes less than two weeks before the presidential election and will be seized on by Democrat candidate Hillary Clinton as proof that her party's policies work.
Today is all about earnings and Q3 #GDP, because the #election is kind of a done deal — right? Not necessarily. https://t.co/wf8mKqGxku

— Bradshaw Financial (@BradshawFinPlan) October 28, 2016
"This shows that the US is roughly on track. It's a natural bounce back following a pretty underwhelming year so far," said Luke Bartholomew, fixed income investment manager at Aberdeen Asset Management in London. "The election campaign has probably created a degree of uncertainty that has impacted growth."
The numbers should help back up what the Federal Reserve policymakers have said – that the US economy is making slow and steady progress. They also increase the possibility of an interest rate hike by the Fed in December.
The Federal Reserve is mostly focused on employment and inflation but also takes into account signs of economic strength in it decisions.
Compare U.S. recoveries and recessions. Charts updated with Q3 2016 #GDP data. https://t.co/BhhQrUv9MGpic.twitter.com/FcLLwiYKh0

— Minneapolis Fed (@MinneapolisFed) October 28, 2016