Syrian rebels oust ISIL from its 'propaganda town' of Dabiq
Comments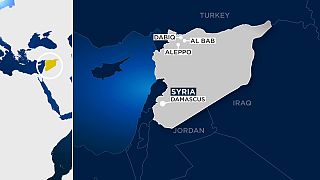 Turkish-backed rebels have taken the Syrian town of Dabiq from ISIL militants forcing the jihadist group from their symbolically important stronghold.
Dabiq has featured prominently in ISIL propaganda due to a prophecy which promised a final apocalyptic battle with the West.
The Syrian rebels, backed by Turkish tanks and warplanes, took Dabiq and neighbouring Soran after clashes on Sunday morning.
Turkey's Foreign Minister Mevlut Cavusoglu, announcing the recapture of Dabiq, underscored the declining fortunes of ISIL or Daesh as the group is known in Arabic. He said that although Daesh controls the villages surrounding the region, the Free Syrian Army is advancing and the aim is to march on and to take Al-Bab and then Manbij.
The Free Syrian Army is an umbrella group for rebels seeking to overthrow Syrian President Bashar al-Assad.
Ankara launched its ""Euphrates Shield operation"":http://www.globalresearch.ca/turkeys-illegal-invasion-of-syria-operation-euphrates-shield-turns-into-operation-occupation/5548280, bringing rebels backed by its own armour and air force into action against ISIL in August, aiming to clear the group from its border and stop Kurdish groups gaining ground in that area.
The government is determined to secure its border with Syria which has long been the jihadists reliable entry point for supplies and foreign fighters.
GIF of the changes in the front line between Euphrates Shield and IS from 28/08/2016 to 16/10/2016. Securing of border and capture of Dabiq. pic.twitter.com/yuXVwQq5I8

— GlobalEventMaps (@GlobalEventMap) October 16, 2016
Dabiq is just 33 km north of Aleppo where Syrian and Russian aviation bombing is continuing on rebel-held Eastern districts of the city. Around 250,000 people are thought to be under siege there trapped by the fighting in a worsening humanitarian crisis.