Indian forces fired shotgun pellets and tear gas as thousands carried the body of a young boy killed during an anti-India protest in Srinagar, the main city of Indian-controlled Kashmir.
Clashes broke out as hundreds of young men hurled rocks at the troops while another group of mourners changed route to bury the dead.
The violence comes as Kashmir is experiencing its largest protests against Indian rule in recent years.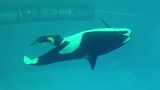 The last killer whale to be born at SeaWorld was delivered on Wednesday, April 19, at the company's San Antonio park.