EU would be 'raping democracy' if it blocks my law, says Hungary's Orbán
Comments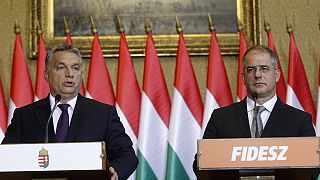 The constitutional amendment proposed by Hungarian Prime Minister Viktor Orbán will be presented to parliament by Monday (October 10).
It follows a controversial referendum on whether or not to accept EU-imposed quotas requiring Hungary to accept 1,294 of the 160,000 migrants currently stranded in Greece and Italy.
If approved, a constitutional amendment would come into force by November 8.
Only 40.4 percent of the electorate cast valid ballots, although 98 percent of those who went to the polls were against the European Union's designated allocations.
Yet, Orbán declared victory in the polls, despite the turnout not reaching the 50 percent threshold needed to make the result officially binding.
Euronews asked the prime minister if he thought the EU could override Hungarian law.
"I can't imagine that there is a state among the democratic community of Europe which says clearly that it doesn't want something, and then in another capital, they try to override it. Brussels, for example," he responded.
"I think this would be unprecedented in the history of the European Union, so I don't think there would be a decision like this, a decision raping democracy, I have a much better opinion of the European Union."