Shimon Peres, former Israeli president and Nobel laureate, dies at 93
Comments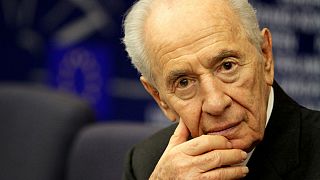 Former Israeli president Shimon Peres died aged 93 on Wednesday, leaving a nation in mourning.
As a man of peace he acted until his last days to reach appeasement with our neighbours

Israeli Prime Minister
Peres had been in an induced coma after a stroke two weeks ago. Although he had made progress, doctors warned on Tuesday there had been a sudden deterioration in his condition.
Peres suffered severe organ failure as well as irreversible brain damage, as a result of the massive hemorrhagic stroke, the Jerusalem Post reported.
His son Chemi Peres announced his death overnight, in hospital near Tel Aviv, saying the former leader died without suffering and had donated his corneas for transplant.
"Our father's legacy has always been the future. 'Look to tomorrow,' he told us, 'build Israel's future with courage and with wisdom and always continue to strive for peace.' We were privileged to have been part of his private family, but today we sense that the entire nation of Israel and the global community mourn this great loss," Chemi Peres told reporters. "We share this pain together".
Shimon Peres: A hawk and a dove https://t.co/c3w5okUrWopic.twitter.com/mdJGBvAvaR

— euronews (@euronews) September 28, 2016
Israel's beloved leader
The last of Israel's founding fathers, Peres was a leading figure in the nation's political landscape. In a career spanning almost 70 years, he served both as prime minister and president.
In 1994, he won the Nobel peace prize for negotiating the Oslo accords aimed at resolving Israel's conflict with the Palestinians.
World leaders are expected to attend his funeral, which Israeli media say will be held on Friday.
Shimon Peres, Israel's elder statesman and Nobel Peace laureate, dies at 93 https://t.co/hVIiT56P8A

— Chemi Shalev (@ChemiShalev) September 28, 2016
President Reuven Rivlin said he was cutting short a state visit to Ukraine to return to Israel in the afternoon.
The Israeli cabinet paid its own special tribute to the passing of Peres with a minute's silence.
Israeli Prime Minister Benjamin Netanyahu issued a statement expressing "deep personal grief at the passing of the beloved of the nation."
In a video address to the nation, Netanyahu described Peres as a man of vision and peace.
"Shimon Peres devoted his life to our people's independence. As a man of vision he looked to the future, as a man of security he fortified Israel's strength in many ways, some of which are still secret today. As a man of peace he acted until his last days to reach appeasement with our neighbours, and a better future for our children," the Israeli premier said.
Shimon Peres, Israel's elder statesman and Nobel Peace laureate, dies at 93 https://t.co/hVIiT56P8A

— Chemi Shalev (@ChemiShalev) September 28, 2016