US decides: Trump vs Clinton - Grobe's view
Comments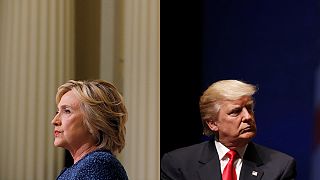 With just days to go before the first US presidential debate between Republican candidate Donald Trump and his Democratic rival Hillary Clinton, Euronews Washington correspondent Stefan Grobe checks in with the latest on the campaign trail in the US state of Florida.
"After taking a day off to prepare for this Monday's debate, Hillary Clinton is back on the campaign trail in Orlando, Florida this Wednesday.
"She has opened up a five-point lead in the latest poll from the Sunshine State and she also has 50-45 lead in the latest national poll.
"This tells us two things, one, Clinton has overcome her last horrible weeks, and two, Donald Trump has a polling celing at 45/46 percent.
"Now this confirms what we've said all along and that is that the trend-lines, the polling average, have been very clear throughout the campaign.
"Meanwhile, Trump raised some eyebrows by refusing to meet with the Ukrainian president in New York. Kyiv had invited both candidates but Trump didn't bother to respond. Another opportunity for Clinton to depict Trump as a Putin-friendly amateur."
Monday's (September 26) debate in New York will be the first of three planned between Trump and Clinton.
Trump retakes the lead in North Carolina as Clinton unexpectedly postpones local fundraiser (via johnrobertsFox</a>) <a href="https://t.co/U3a0YEVRPk">pic.twitter.com/U3a0YEVRPk</a></p>&mdash; FOX & Friends (foxandfriends) September 21, 2016
WATCH: On Morning_Joe</a>, Clinton campaign manager refuses to say how Clinton will handle <a href="https://twitter.com/hashtag/Aleppo?src=hash">#Aleppo</a> crisis as president. <a href="https://t.co/jEpGgqbS0G">https://t.co/jEpGgqbS0G</a></p>&mdash; NBC Nightly News (NBCNightlyNews) September 21, 2016