FGM provokes fierce debate in Dagestan
Comments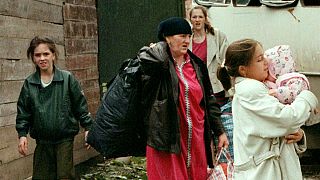 A report about female genital mutilation (FGM) has sparked a fierce debate in the North Caucasus.
Some clerics in Dagestan have defended the practice.
Is
FGM

common in Dagestan?

Campaigners say it is.

One NGO says it has interviewed many women who say FGM is common practice among Muslims in mountain villages.

You can read the report from The Russian Justice Initiative here (in Russian)
Fierce debate
The regional Muslim leader Ismail Berdiyev withdrew a comment he made suggesting all women should undergo FGM.
However, in this social media post, Senior Orthodox Christian priest Vsevolod Chaplin seemed to back the stance.
The comments have prompted an outcry from campaigners.
FGM

– Fact Check

Female genital mutilation comprises all procedures that involve altering or injuring the female genitalia for non-medical reasons.

It is recognised internationally as a violation of the human rights of girls and women.

It is estimated that more than 200 million women and girls around the world have undergone the procedure
By 2030, 15 million additional girls aged 15-19 will have been subject to

FGM

if current trends continue
44 million girls are 14 and under
This age group is primarily affected in Gambia (56%), Mauritania (54%) and Indonesia (50%)
Girls aged 15-19 are primarily affected in Somalia (98%), Guinea (97%) and Djibouti (93%)

FGM

has been documented in at least 30 countries, mainly in Africa but also the Middle East and Asia

(Source: UN)