Donald Trump officially secures Republican presidential nomination
Comments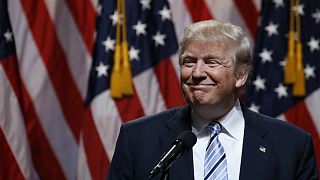 Donald Trump has won the Republican Party's nomination to contest the next presidential election on November 8.
Such a great honor to be the Republican Nominee for President of the United States. I will work hard and never let you down! AMERICAFIRST!

— Donald J. Trump (@realDonaldTrump) July 19, 2016
During a roll-call vote at the the Republican Convention in Cleveland, Trump secured the majority of delegates -1,237 – needed to run for the White House.
The vote to put Trump's name in nomination took place one day after opponents staged a failed attempt to force a vote opposing his candidacy.
His rival is set to be Democratic Party candidate Hillary Clinton once she has been formally nominated at her party's convention next week.
Donald Trump just became the Republican nominee. Chip in now to make sure he never steps foot in the Oval Office. https://t.co/GjshXP4BAG

— Hillary Clinton (@HillaryClinton) July 19, 2016