Austria's outgoing president warns against populism and xenophobia
Comments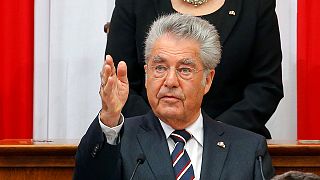 Austria's outgoing President has left office with a plea for the country to resist populism and xenophobia.
In his farewell speech Heinz Fischer (77) spoke out against the rhetoric of potential successor Norbert Hofer from the far-right Freedom Party (FPO).
The decision to re-run the May presidential election, won by a small margin by Green candidate Alexander van der Bellen, has left Brussels on edge in light of the Brexit referendum result.
Responding to press reports that his party would seek it's own EU referendum, Hofer told Austrian daily Die Presse that he is not in favour of leaving, an apparent back-pedal from previous statements immediately after the Brexit vote.
His rival Van der Bellen said that 'fantasising about an EU exit is to play with fire.'
The potential victory of a far-right candidate in Austria has Europe worried. Politicians fear it could fuel other far-right and anti-EU movements across the continent.