ECB agrees cheaper loans to fund Greek banks
Comments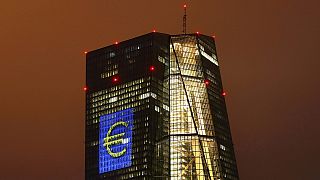 The European Central Bank has agreed to accept 'junk' rated Greek debt as collateral for normal ECB lending to banking institutions.
ECB reinstates waiver for eligibility of Greek bonds used as collateral in Eurosystem monetary policy operations https://t.co/8FDSPbGPyH

—

ECB

(@ecb) June 22, 2016
Greek banks lost access to cheaper funds 16-months ago when the country was on the brink being kicked out of the eurozone.
The availability of a reasonable funding avenue will go someway to revive the struggling economy and help restore confidence in the battered Greek banking sector.
Close to a decade-long economic contraction has wiped out over a quarter of Greek GDP since its peak in 2007 and unemployment stands at around 25 percent.
Euronews correspondent in Athens Symela Touchtidou reports:
"What will change for businesses and households after the European Central Bank's decision?
Not much in the short term. Banks will use the profits from the cheaper liquidity to "lighten" their overburdened budgets.
When, however, the country's participation in the QE program follows, Greeks will see more cash in the market and at lower costs. Athens, Euronews, Symela Touchtidou."