ISIL claims to have shot down Syrian plane and captured pilot
Comments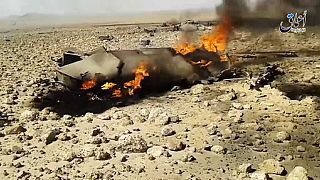 ISIL fighters said they had shot down a government warplane in Syria on Friday.
They released footage of what they said was the burning wreckage of the plane in the Syrian desert, southeast of Damascus.
ISIL claimed to have captured the pilot after he landed by parachute nearby.
The Syrian Observatory for Human Rights monitoring group, base in the UK, said the fate of the pilot was not known.
The date and authenticity of the video also can't be verified.
Russian news agency Interfax said the plane did belong to the Syrian Air Force and crashed because of a technical fault.