'Permanently poorer' Brexit warning from UK finance minister
Comments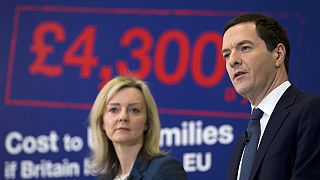 You will be "permanently poorer" – the warning to the people of Britain from the UK finance minister George Osborne if they choose to leave the European Union in a referendum in June.
The price would be paid by British families. Wages would be lower and prices would be higher
Osborne says a Brexit would do permanent damage to the country's economy, with the poorest Britons suffering most.
According to a Treasury analysis, in the worst case scenario Britain's GDP would shrink by six percent by 2030.
And in a speech Osborne touted "higher productivity and rising living standards" if the UK remains an EU member, leading to a stronger economy.
"Britain would be permanently poorer if it left the European Union. Under any alternative, we'd trade less, do less business and receive less investment," Osborne said.
"And the price would be paid by British families. Wages would be lower and prices would be higher," he said in a speech at a research centre specialising in composites for the aerospace industry which has deep ties with other EU countries.
Britain will be permanently poorer if it votes to Leave the EU on June
23. My article for thetimes</a> <a href="https://t.co/gc2zhk8EWz">https://t.co/gc2zhk8EWz</a></p>&mdash; George Osborne (George_Osborne) April 18, 2016
Anti-EU campaigners responded the British government was resorting to scare tactics and unreliable estimates calling the claims "worthless".
Most opinion polls show the rival campaigns running neck and neck.
Brexit supporters accuse the government of running a scare campaign. They say a post-EU Britain would flourish as it pursued its own trade deals and dropped rules and regulations.
Osborne tried to dismantle those arguments on Monday, saying that even the least disruptive Brexit option for Britain studied by his ministry – a deal with the EU similar to Norway's access to the bloc's single market – would mean the economy would be nearly four percent smaller by 2030 than if it stayed in.